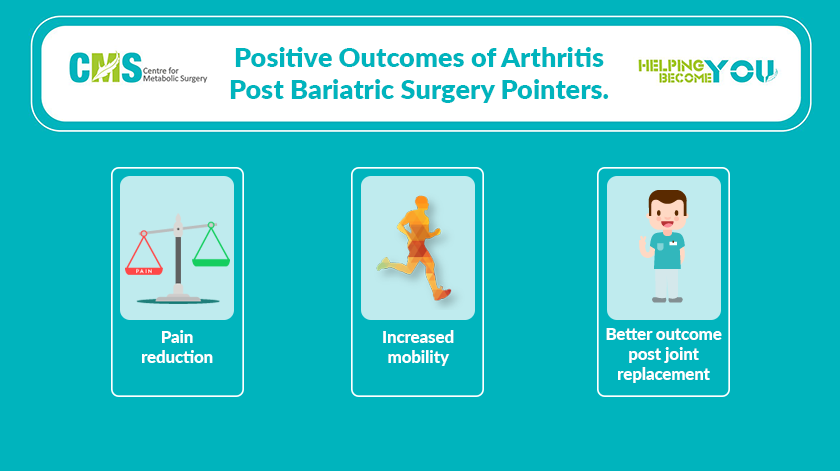 From health to work, obesity has a wide-ranging effect on an individual's life and contributes to a bunch of health problems such as heart disease, type 2 diabetes, sleep apnea etc. But those extra Kgs can also increase the stress on knees and set you up in a world of pain. Knee pain is one of the common complications of being overweight. If you are among the millions who suffer from degenerative joint diseases including rheumatoid arthritis, osteoarthritis, crystalline arthritis, in that case bariatric surgery rewards you in countless ways. Research shows weight loss following surgery is associated with improved rheumatoid arthritis and a significant decrease in the need for medication and inflammatory markers. At six months post-surgery, patients lose an average of 72 lbs and six years after surgery, 78 lbs.1,2,3
The most notable benefits of bariatric surgery are –
Pain reduction – A lot of weight loss following bariatric surgery is effective for relieving osteoarthritis pain. It's been noted that for every pound lost, there is about a 5-pound decrease in pressure across the joint while walking. Bariatric surgery patients can ultimately lose up to 80 % of their excess weight.
Increased mobility – As the surgery significantly reduces knee pain, physical functioning and the overall quality of life improves and leads to increased mobility. Losing weight helps the patient be more active. Moreover, doing daily exercises is a key to helping osteoarthritis patients maintain the effective weight loss.
Better outcome post joint replacement – To see a better outcome after joint replacement surgery, an orthopedic surgeon will insist an obese patient lose weight before going for the surgery. Being overweight increases the risk post-surgery and are more likely to suffer from complications like infection or blood clot. 1.
Apart from health benefits mentioned above, most impressive is the positive effect that bariatric surgery has in addressing other related illnesses, which includes type-2 diabetes, hypertension, obstructive sleep apnea and high triglycerides.4